September 27 - October 3, 2021

Heart
The Centrum, Worcester, MA, November 28, 1990
What a career it's been for Heart!
From their start in the early 70's, to the incredible success of "Dreamboat Annie," the VH-1 Rock Honors, their insane tribute to Led Zeppelin at the Kennedy Center Honors, and of course their induction into the Rock and Roll Hall of Fame...it's been quite a ride!
On this broadcast of Live in Concert, we're going back to Heart's "Brigade" tour. Heart put on this legendary performance at the Centrum in Worcester, Massachusetts. It was November 28, 1990.
Don't miss rock and roll sisters Ann and Nancy Wilson, and the rest of Heart! They're headlining Live in Concert!


This week's setlist: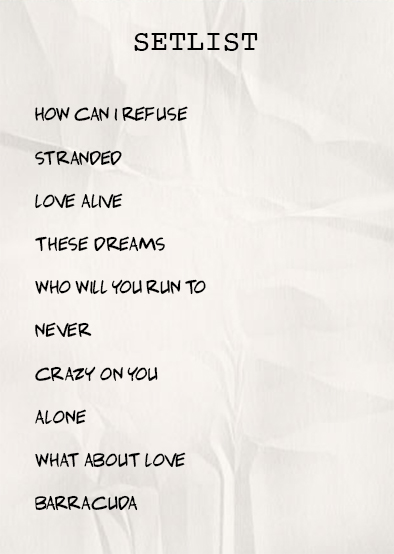 We'll also hear classic live sets by:


Loverboy
Recorded live in Peachtree City, GA, on 7/29/2005

Robert Palmer
Recorded live in New York, NY, on 12/15/1988
Queen
Recorded live in London, England, on 7/12/1986