March 2-8, 2020

Pearl Jam
Bonnaroo Festival, Great Stage Park, Manchester, TN, June 11, 2016
During their 2016 North American Tour, Pearl Jam was invited to play at the 15th Annual Bonnaroo Festival in Manchester, Tennessee.
Fans were fired up! Many of them told us they'd never seen Pearl Jam play live. There was only one small problem...
Crazy weather!
If you've ever been to Middle Tennessee in June, you know about the kind of storms that can pop up- and they can be vicious! Sure enough, right before Pearl Jam was to go on stage, the skies lit up with lightning, the wind was howling, and the rain started coming down in buckets!
But after about an hour, the rain let up, the wind died down, and the skies started clearing up. Then, the lights went out, the crowd roared, and Pearl Jam took the stage!
Don't miss this legendary performance by Pearl Jam- they're headlining this weekend's Live in Concert!


This week's setlist: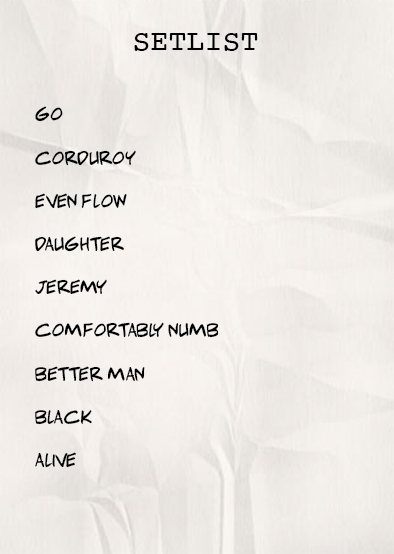 We'll also hear classic live sets by:


Guns 'N Roses
Recorded live in Las Vegas, NV, on 1/25/1992

Live
Recorded live in Amsterdam, The Netherlands, on 7/1/2008
The Scorpions
Recorded live in Munich, Germany, on 12/17/2012