Ausgut 5-11, 2019

KISS
Jiffy Lube Live, Bristow, VA, July 25, 2004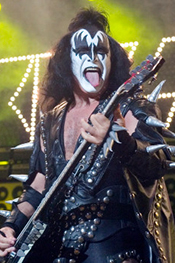 Their ongoing "End of the Road" world tour is going on now. They have upcoming shows in Charlotte, North Carolina, Washington, D.C., Virginia Beach, VA, Newark, NJ, and Montreal.
Click here for all the details of the last ever Kiss tour!
Back in the summer of 2004, Kiss went out on their highly successful "Rock the Nation" tour. In a little over 3 months, they played 59 concerts across 3 continents!
During that tour, just about 15 years ago, on July 25, 2004, Kiss made a stop in our nation's capitol area and we'll listen to a legendary concert they played at Jiffy Lube Live in Bristow, Virginia.
Don't miss rock icons Kiss! They're headlining this weekend's Live in Concert!

This week's setlist:
We'll also hear classic live sets by:


Pearl Jam
Recorded live in Chicago, IL, on 8/5/2007

Triumph
Recorded live in Norje, Sweden, on 6/7/2008
The Scorpions
Recorded live in Lisbon, Portugal, on 2/8/2001