February 4-10, 2019

Aerosmith
Boston Garden, Boston, MA, October 6, 1980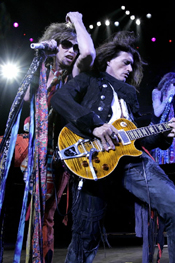 After releasing their 13th studio album, "Just Push Play," Aerosmith launched a highly successful tour, playing 51 concerts in just 4 months.
This weekend, we'll go back to that tour and listen to a legendary performance captured live at the Office Depot Center in Sunrise, Florida, just outside of Fort Lauderdale.
It was April 3rd, 2004.
Don't miss rock legends Aerosmith! They're headlining the next Live in Concert.

This week's setlist:
We'll also hear classic live sets by:


Guns 'N Roses
Recorded live in Las Vegas, NV, on 1/25/1992

Live
Recorded live in Amsterdam, The Netherlands, on 7/1/2008
Metallica
Recorded live in New York, NY, on 10/30/2009