October 30 - November 5, 2017

Van Halen
Tokyo Dome, Tokyo, Japan, June 21, 2013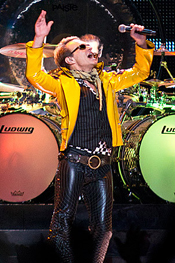 This weekend, we'll go back a few years and listen to an incredible concert from Van Halen's "A Different Kind of Truth" tour.
For the most part, the long awaited reunion with David Lee Roth was going well. Fans were thrilled. And, once again Van Halen was selling out arenas every single night. The concert we'll hear was captured live at the Tokyo Dome in Tokyo, Japan on June 21, 2013.
Don't miss rock legends Van Halen, with David Lee Rith! They're headlining this weekend's Live in Concert!

This week's setlist:
We'll also hear classic live sets by:


Foghat
Recorded live in Portland, OR, on 10/26/1996

Rainbow
Recorded live in Munich, Germany, on 10/20/1977
Judas Priest
Recorded live in Memphis, TN, on 12/12/1982