May 29 - June 4, 2017

Rush
Quicken Loans Arena, Cleveland, OH, April 15, 2011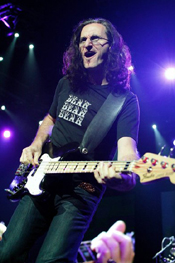 "Tax Day" is a day most Americans typically try to forget. It's right up there with root canals, jury duty, and meeting in-laws. But in this case, April 15th, 2011, was a night classic rock fans in Celeveland will never forget! While others were at home fiddling around with Turbotax, lucky Rush fans were filing into the Quicken Loans Arena to see a Rush concert!
This weekend, we're going back to Rush's "Time Machine" to listen to this legendary performance! Rush performed brilliantly. The concert erased any lingering tax blues!
Don't mis Rock and Roll Hall of Famers Rush! They're headlining this weekend's Live in Concert!

This week's setlist:
We'll also hear classic live sets by:


Foghat
Recorded live in Philadelphia, PA, on 12/18/1976

Night Ranger
Recorded live in Chicago, IL, on 5/7/2016
George Thorogood
Recorded live in Boston, MA, on 11/23/1982