February 13-19, 2017

Mötley Crüe
Van Andel Arena, Grand Rapids, MI, April 27, 2005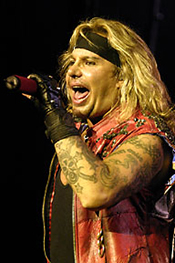 Seeing Mötley Crüe in concert was an all-out total assault on the senses! Fire, dancing girls, loud rock and roll! Mötley Crüe always delivered exactly what their fans wanted.
This weekend, we'll listen to a concert from their highly successful "Carnival of Sins" tour. It was captured live at the Van Andel Arena in Grand Rapids, Michigan, on April 27th, 2005.
Don't miss the bad boys of rock, Mötley Crüe, they're headlining this weekend's Live in Concert!
This week's setlist:
We'll also hear classic live sets by:


Kiss
Recorded live in Los ANgeles, CA on 10/31/1998

Judas Priest
Recorded live in Memphis, TN on 12/12/1982
Foghat
Recorded live in New York, NY on 12/3/1994